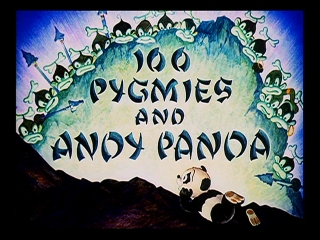 100 Pygmies and Andy Panda is a 1940 animated short starring Andy Panda. The cartoon is notable by the last appearance of Mr. Whippletree.
Andy Panda (still an infant) pesters Papa, who's trying to take a nap. When he gets his magic wand in the mail, he practices on Papa and competes against the witch doctor of the Pygmies, who wants to see who has more magic.
Censorship and Bans
Edit
This cartoon is rarely seen because of its portrayal of black stereotype characters. This cartoon is not currently shown on American television because of characters, scenes or situations that portray potentially offensive, negative or otherwise socially unacceptable content which may be perceived as fostering stereotypes of Blacks.
Includes reused animation from Life Begins for Andy Panda (1939)
Ad blocker interference detected!
Wikia is a free-to-use site that makes money from advertising. We have a modified experience for viewers using ad blockers

Wikia is not accessible if you've made further modifications. Remove the custom ad blocker rule(s) and the page will load as expected.