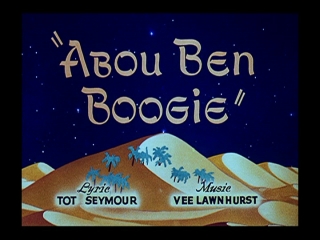 Abou Ben Boogie is a 1944 short.
In this Swing Symphony cartoon things are hopping on an Arabian desert when local tribesmen gather at the Adobe Club for an evening of middle-eastern jitterbugging, boogie-woogie and truckin'. A very-shapely-indeed girl is dancing to a song about Abou Ben Boogie, the Oriental Rug Cutter, whose advances toward the girl are thwarted by a dancing horse. The dancer manages to elude Ben Boogie and all the other wolfish attendees.
Ad blocker interference detected!
Wikia is a free-to-use site that makes money from advertising. We have a modified experience for viewers using ad blockers

Wikia is not accessible if you've made further modifications. Remove the custom ad blocker rule(s) and the page will load as expected.