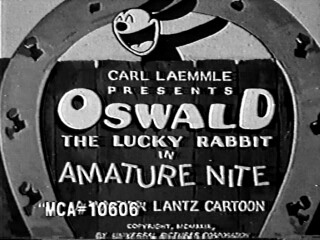 Amature Nite
is a 1929
Oswald the Lucky Rabbit
cartoon.
post it
Copyrighted as Amateur Night
The first musical score by David Broekman
Motion Picture News erroneously lists this cartoon as a silent release.
Maurice Horn incorrectly cites this film as the first Walter Lantz cartoon, even though it is indeed Race Riot
Ad blocker interference detected!
Wikia is a free-to-use site that makes money from advertising. We have a modified experience for viewers using ad blockers

Wikia is not accessible if you've made further modifications. Remove the custom ad blocker rule(s) and the page will load as expected.