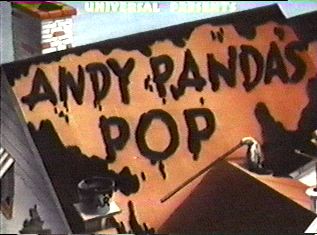 Andy Panda's Pop is a 1941 animated short starring Poppa Panda.
Andrew P. Panda (Andy's pop) asks the Acme Roofing Company if it will repair his shoddy roof. He is quickly turned off by the exorbitant price ($200) and determines, "I'll fix it myself!" Naturally, Pop isn't the most skilled of workers, but does his best anyway. The ladder collapses, so Andy's pop tries hurling rolls of roofing paper. However, the flying paper snatches him to the roof. His best turns to his worst when an annoying pelican distracts him by making the roof his new home. Pop angrily tries to rid himself of the feathered pest (who just wants to mind his own business) and destroys the roof more than ever in the process. Furious, Pop falls through the skylight, landing (conveniently) near the telephone. Admitting defeat, he again calls the roofing company, only to be irately told, "Fix it yourself!"
Reissued as Goofy Roofer for television
By this time, Poppa Panda had become such a success that Lantz decided to have him star in his own cartoon. It should be noted that Andy Panda himself does not appear here at all. Andy's mother does make a cameo appearance, however.
Ad blocker interference detected!
Wikia is a free-to-use site that makes money from advertising. We have a modified experience for viewers using ad blockers

Wikia is not accessible if you've made further modifications. Remove the custom ad blocker rule(s) and the page will load as expected.