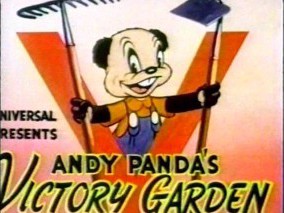 Andy Panda's Victory Garden
is a 1942
Andy Panda
cartoon.
Charlie Chicken
makes his debut in this short.
Andy Panda and his dog Balmer plant a victory garden, while a pesky rooster eats their plants. Andy wants to plant a new garden but the only problem is Charlie the Chicken that spoils the garden.
Reissued as Andy Panda's Garden by Castle Films. Reissued as Springtime for Andy for television.
After this, Charlie would make his second and final appearance in Meatless Tuesday (1943). After his screen career, Charlie became a prominent player in comic books (usually paired with Andy Panda).
Ad blocker interference detected!
Wikia is a free-to-use site that makes money from advertising. We have a modified experience for viewers using ad blockers

Wikia is not accessible if you've made further modifications. Remove the custom ad blocker rule(s) and the page will load as expected.