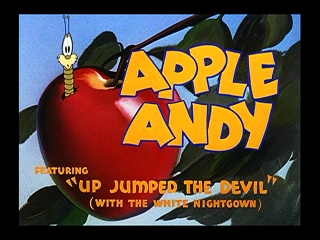 Apple Andy is a 1946 short starring Andy Panda.
Andy Panda is very fond of apples and he eats a bushel of green apples, falls asleep and has a nightmare in which the devil is trying to entice him into Hades and stuffs him full of apple juice, applesauce and more apples. (In Andy's defense, since Andy was taught not to eat green apples, the devil had spray-painted the green apples red.)
Ad blocker interference detected!
Wikia is a free-to-use site that makes money from advertising. We have a modified experience for viewers using ad blockers

Wikia is not accessible if you've made further modifications. Remove the custom ad blocker rule(s) and the page will load as expected.