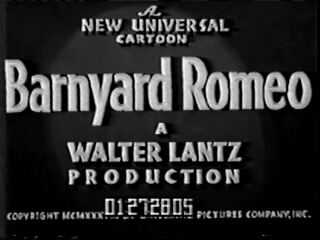 Barnyard Romeo
is a 1938
New Universal Cartoons
cartoon.
Fun in the barnyard, as romance blooms between Clock Gobble, the turkey, and Dulcie Duck, who talks with a Hebrew accent which is very funny. But Miss Peacock comes along to vamp the Romeo away from his love. Miss Duck is smart, find disguises herself as a gay Mexican caballero, and the fickle vamp gives Gobble the gate for the new lover. When Gobble is broken-hearted and tries to commit suicide by drowning, Dulcie Duck rescues him. Now he realizes who his true love is.
Ad blocker interference detected!
Wikia is a free-to-use site that makes money from advertising. We have a modified experience for viewers using ad blockers

Wikia is not accessible if you've made further modifications. Remove the custom ad blocker rule(s) and the page will load as expected.