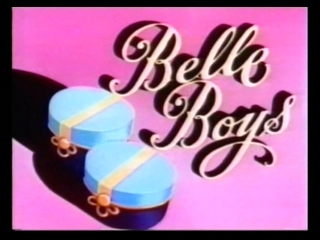 Belle Boys is the 49th animated cartoon short subject in the Woody Woodpecker series. Released theatrically on September 14, 1953, the film was produced by Walter Lantz Productions and distributed by Universal-International.
Woody and Buzz are hotel bellhops busy staring at a magazine admiring the drop dead gorgeous French actress Ga Ga Gazoon who even manages to turn the heads of men in the publication. She is shown walking her dog, skiing and wearing a one piece bikini. Their dreams come true when they discover Miss Gazoon is about to be their next hotel guest. Woody and Buzz then aggressively compete for the attractive actress's affections. She thinks Woody is cute and tries to kiss him on the lips the minute she meets him but Buzz interferes. Eventually, the blonde bombshell chooses Woody Woodpecker over Buzz. Woody is invited to stay in Ga Ga Gazoon's hotel room.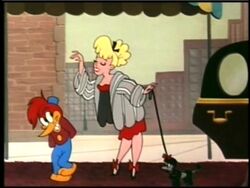 The plot device of bellhops pursuing the affections of an attractive female hotel guest had been used previously in the 1944 Three Stooges short subject Idle Roomers.
A unique rendition of the opening "Woody Woodpecker Theme" song, replete with recorder, was utilized for this entry.
References
Edit
Cooke, Jon, Komorowski, Thad, Shakarian, Pietro, and Tatay, Jack. "1953". The Walter Lantz Cartune Encyclopedia.
Ad blocker interference detected!
Wikia is a free-to-use site that makes money from advertising. We have a modified experience for viewers using ad blockers

Wikia is not accessible if you've made further modifications. Remove the custom ad blocker rule(s) and the page will load as expected.