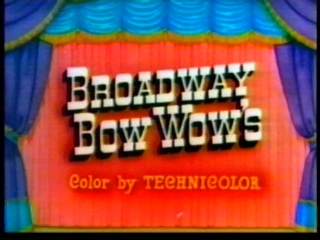 Broadway Bow Bow's is a 1954 short.
The story of John, a show biz dog, and his partner/fiancee Mary. We see him about to jump off a bridge when he stops and explains why he is doing it. He and Mary were a hit with their act when finally they decided to marry. Unfortunately, he deserts her for an old flame the day of their wedding who, in turn, deserts him for a cattleman. He decides to return to Mary only to discover she has left him and gone solo. His solo act is less successful than hers and he goes bankrupt. Finally, he is about to complete his jump when Mary returns and the duo is reunited.
Ad blocker interference detected!
Wikia is a free-to-use site that makes money from advertising. We have a modified experience for viewers using ad blockers

Wikia is not accessible if you've made further modifications. Remove the custom ad blocker rule(s) and the page will load as expected.