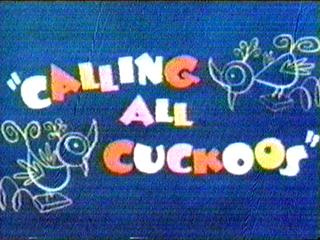 Calling All Cuckoos is the 70th animated cartoon short subject in the Woody Woodpecker series. Released theatrically on September 24, 1956, the film was produced by Walter Lantz Productions and distributed by Universal International.
Herr Spring, a fat little German clockmaker of cuckoo clocks, finds that after completion of a new clock, he now needs a cuckoo bird to occupy it. He therefore goes out into the Black Forest to find one. Woody Woodpecker hears the clockmaker calling, "Cuckoo, Cuckoo" as he enters the forest, and he decides to humor him, thinking him a little crazy. Woody pretends to be a cuckoo bird in order to live inside the clock and to upset the clockmaker's journey. After a time, Woody's trapped inside a bird catcher's net, and the German, swinging the net over his shoulder, starts back to his clock factory. Woody torments the fat, stupid cuckoo clockmaker just because he's a fat, stupid cuckoo clockmaker. A big grizzly bear, peacefully sleeping in the forest, is rudely awakened by a club in Woody's hands, swung from within the net, resulting in the bear taking his vengeance out on the German. In the melee, Woody escapes. From then on, it's a battle of wits between Woody and the German, the clockmaker trying to capture the elusive Woody. Somehow, the sleepy, abused bear vents his grievances on the innocent clockmaker. Finally, Woody is recaptured, taken to the clockmaker's shop, and put in the new cuckoo clock. Woody seems to appear in every clock on the shelves, with the now frustrated and exasperated Germany trying to locate him. The resulting noise enrages the sleepy bear, who finally slams a cuckoo clock over the German's head as Woody emerges from another clock with many happy "cuckoos."
References
Edit
Cooke, Jon, Komorowski, Thad, Shakarian, Pietro, and Tatay, Jack. "1956". The Walter Lantz Cartune Encyclopedia.
---
This article is a Stub. You can help Walter Lantz Wiki by expanding it.
---
Ad blocker interference detected!
Wikia is a free-to-use site that makes money from advertising. We have a modified experience for viewers using ad blockers

Wikia is not accessible if you've made further modifications. Remove the custom ad blocker rule(s) and the page will load as expected.