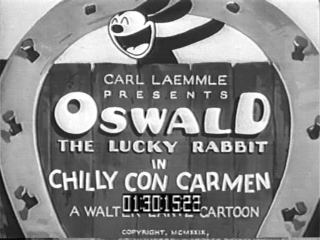 Chilly Con Carmen
is a 1930
Oswald the Lucky Rabbit
cartoon.
Set in Spain, Oswald is featured as a guitarist who ends up in a bullring as a toreador.
Copyrighted as Chile Con Carmen
Incorrectly listed as Chili Con Carmen in Michael Fitzgerald's Universal Pictures
Incorrectly listed as Chile Con Carmen in Jeff Lenburg's Encyclopedia of Animated Cartoons
Russell Merritt has suggested that the 1929 Silly Symphony El Terrible Toreador may have been based on an unfinished Disney Oswald cartoon. In that case, Chilly Con Carmen may represent the later Oswald staff finishing their version of the short.
Ad blocker interference detected!
Wikia is a free-to-use site that makes money from advertising. We have a modified experience for viewers using ad blockers

Wikia is not accessible if you've made further modifications. Remove the custom ad blocker rule(s) and the page will load as expected.