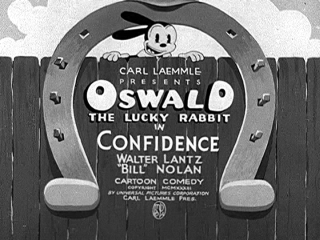 Confidence is a 1933 animated short subject, produced by Walter Lantz, directed by Bill Nolan, and featuring Oswald the Lucky Rabbit. In the film, Oswald is a farmer whose farm falls prey to the ominous influence of the Great Depression (personified as a dark, shadowy figure). Determined to find a solution, Oswald flies to Washington, D.C. where he meets President Franklin D. Roosevelt. It was released by Universal Pictures on July 31, 1933 and is available on The Woody Woodpecker and Friends Classic Cartoon Collection DVD box set.
External links
Edit
Ad blocker interference detected!
Wikia is a free-to-use site that makes money from advertising. We have a modified experience for viewers using ad blockers

Wikia is not accessible if you've made further modifications. Remove the custom ad blocker rule(s) and the page will load as expected.