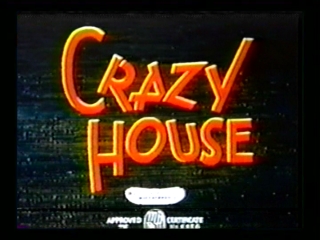 Crazy House
is the fourth
Andy Panda
cartoon produced by
Walter Lantz
and probably directed by
Alex Lovy
(as speculated by
Michael Barrier
). The cartoon was released on September 23, 1940.
Andy and his father seek shelter from a flood in an abandoned building, which in reality is a fun house, filled with such things as hidden practical jokes, a noisy merry-go-round and a dancing floor.
Reissued as Fun House by television.
The cartoon is recognized as Lantz's first fully-independent film. The use of Technicolor produced some clashes between Lantz and the management at Universal Pictures, whom didn't like that their animation department was offering an apparently better output than their features, so they decided to cut in early 1940 Lantz's weekly advance, forcing the producer to shut down the studio for a while. Crazy House was produced during the closure[1].
Ad blocker interference detected!
Wikia is a free-to-use site that makes money from advertising. We have a modified experience for viewers using ad blockers

Wikia is not accessible if you've made further modifications. Remove the custom ad blocker rule(s) and the page will load as expected.