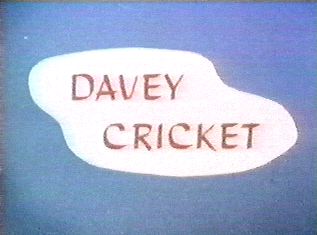 Davey Cricket is a 1965 cartoon starring The Beary Family.
Charlie Beary tries to relax but is unaware of a cricket loose in the house. He hears a squeak coming from Bessie's vacuum cleaner, Suzy's doll, and Junior's saxophone. He applies oil to each item. He eventually finds the real source of the squeak, the cricket, and angrily chases it using a bathroom plunger and a baseball bat to help capture it. The result leaves him in bandages but at least things are quiet once more... for a while, at least.
Ad blocker interference detected!
Wikia is a free-to-use site that makes money from advertising. We have a modified experience for viewers using ad blockers

Wikia is not accessible if you've made further modifications. Remove the custom ad blocker rule(s) and the page will load as expected.