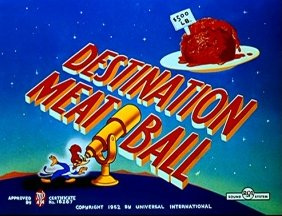 Destination Meatball
is the 38th
animated cartoon
short subject
in the
Woody Woodpecker
series. Released theatrically on December 24, 1951, the film was produced by
Walter Lantz Productions
and distributed by
Universal International
.
A line of people (including Woody) drool at the window of the shop of market butcher Buzz Buzzard. A short series of gags ensues about how Buzz dishonestly (and literally) "jacks" up all his prices. Since Woody is broke as usual, he sneaks in and gets thrown out by Buzz. On the way out, Woody collides with a bottle of invisible ink and turns partially invisible. Buzz can only see parts of Woody's body, and, in a somewhat gruesome scene, thinks that he's been dismembered, so he sweeps him into a trap door to get rid of him. When Woody awakes, he realizes what is happening, and he douses himself with the rest of the ink in order to pose as a ghost.
There is no director's credit for this film. Lantz himself has claimed to have directed Destination Meatball, but does not receive on-screen credit.
There is no dialogue in this film. The vocal effects were archived recordings of voice actors Grace Lantz, Paul Frees, Lionel Stander, Dal McKennon, and former storyman/voice actor J.B. Hardaway from various earlier Woody films. In fact Woody's spooky laugh was recycled from Who's Cookin' Who? (as done by Hardaway).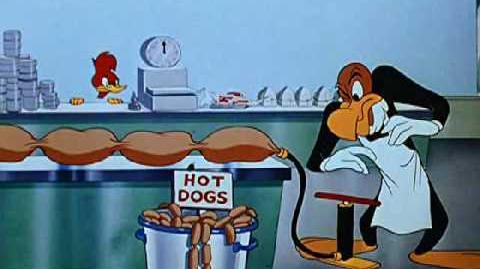 Ad blocker interference detected!
Wikia is a free-to-use site that makes money from advertising. We have a modified experience for viewers using ad blockers

Wikia is not accessible if you've made further modifications. Remove the custom ad blocker rule(s) and the page will load as expected.