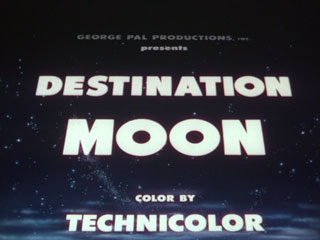 Destination Moon
is a 1950 American science fiction feature film produced by
George Pal
, who later produced When Worlds Collide, The War of the Worlds, and The Time Machine. Pal commissioned the script by James O'Hanlon and Rip Van Ronkel. The film was directed by Irving Pichel, was shot in Technicolor and was distributed in the USA by Eagle-Lion Classics. It was the first major science-fiction film produced in the United States dealing seriously with the prospect, problems and technology of space travel. This movie was not the first such to hit the screens, however; Rocketship X-M stole its thunder. The eminent science-fiction writer Robert A. Heinlein contributed significantly to the script and served as a technical adviser. Heinlein also published a novella of the same name based on the screenplay about the same time as the release of the film.
Ad blocker interference detected!
Wikia is a free-to-use site that makes money from advertising. We have a modified experience for viewers using ad blockers

Wikia is not accessible if you've made further modifications. Remove the custom ad blocker rule(s) and the page will load as expected.