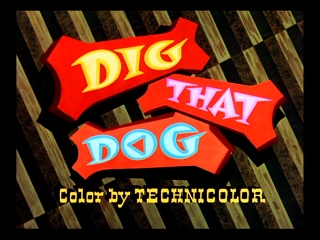 Dig That Dog is a 1954 short starring a great dane named Cuddles the Great Dane.
The story of Percy P. Pettipoint who purchases a much-desired great dane named Cuddles. He instructs Cuddles to bury his scraps in the back yard. Cuddles is a fast learner and obeys but, unfortunately, he carries it a little too far and eventually starts burying everything in the back yard including the refrigerator, the TV set, the bathtub (with him in it), and the mailman! Finally, when Cuddles buries Pettipoint's house, the man decides to get rid of the mutt...easier said than done.
Cuddles the Great Dane would later appeared in Moochin Pooch.
Ad blocker interference detected!
Wikia is a free-to-use site that makes money from advertising. We have a modified experience for viewers using ad blockers

Wikia is not accessible if you've made further modifications. Remove the custom ad blocker rule(s) and the page will load as expected.