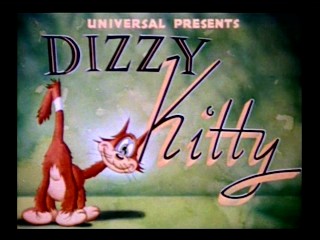 Dizzy Kitty is a 1941 short starring Andy Panda.
Pop throws out Andy's dopey cat Romeo, but when he finds out that the feline can win $25 at a cat show, he catches Romeo, figuring that the prize money should not go unclaimed by a member of the family. Andy and his dad try to pretty up Romeo. They try bathing him, resulting in a riot of claws, fur and water. Furious fun on a springboard leads to a yowling climax.
Ad blocker interference detected!
Wikia is a free-to-use site that makes money from advertising. We have a modified experience for viewers using ad blockers

Wikia is not accessible if you've made further modifications. Remove the custom ad blocker rule(s) and the page will load as expected.