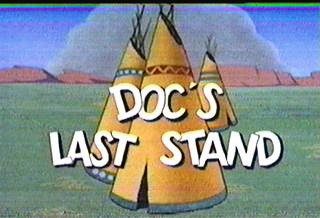 Doc's Last Stand is a short released on December 19th, 1961 starring Doc.
Doc sets up a traveling store, from which he intends to sell all manner of things to the settlers of the Old West. The wagon is drawn by his faithful canine friend, Champ. They pull into an Indian reservation, "Scalpum Village", and Doc displays his wares. After a number of minor sales, he finds a wealthy Indian with who doesn't want anything except female companionship. Hoping to make a killing, Doc tells Champ that they have to somehow locate an available female. Doc proceeds to dress the dog up to look like a beautiful squaw. The Indian is unimpressed with the "beauty" until Doc gives him a whiff of "Indian Love Call" perfume. Doc gets paid, but Champ can't get away from the love-crazed Indian. The pursuit ends when the Indian chases Champ right into Doc's wagon, sending the contents flying all over. A lady's wig lands on the conniving cat's head, and the Indian switches his attention to Doc, chasing him into the distance.
Availability
Edit
The cartoon is available on Woody Woodpecker and Friends, Vol. 7 (DVD; Columbia House Club, October 2003).
Ad blocker interference detected!
Wikia is a free-to-use site that makes money from advertising. We have a modified experience for viewers using ad blockers

Wikia is not accessible if you've made further modifications. Remove the custom ad blocker rule(s) and the page will load as expected.