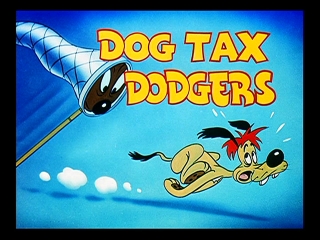 Dog Tax Dodgers
is a 1948
Andy Panda
cartoon with
Wally Walrus
in his only appearance in a Andy Panda cartoon.
Andy reads in the newspaper that dog catcher Wally Walrus is coming to collect $3.00 worth of dog tax from every dog owner. Being kind of a cheapskate, he hides his dog in the closet from Wally's presence but, upon entering Andy's house, Wally still suspects something is amiss. He uses a trained flea to reveal the dog who gets chased by Wally into a pond in the backyard. After "fishing" the dog out, Wally demands Andy pay his $3.00 but both are in for a surprise: the dog has an entire litter of puppies each worth an additional $3.00!
Ad blocker interference detected!
Wikia is a free-to-use site that makes money from advertising. We have a modified experience for viewers using ad blockers

Wikia is not accessible if you've made further modifications. Remove the custom ad blocker rule(s) and the page will load as expected.