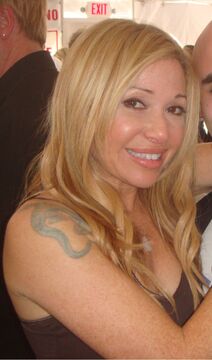 Elizabeth Ann Guttman (born September 11, 1961),[1] better known by her stage names of Elizabeth Daily and E.G. Daily, is an American voice actress, actress, singer, songwriter, and musician. She voices Tommy Pickles in Rugrats and its spinoff All Grown Up!, Buttercup in The Powerpuff Girls, Steve from Curious George
Singing career
Edit
Daily signed with A&M Records in 1985, working with Madonna's frequent collaborators John "Jellybean" Benitez and Stephen Bray. In 1986 that the label released the R&B/Rock single "Say It, Say It." The song made it to #70 on Billboard Hot 100, and the #1 spot on the Hot Dance Music/Club Play chart. (Other versions of the song appeared as early as 1981.) Her songs "Shake It Up" and "I'm Hot Tonight" were included in the soundtrack to the film Scarface. Those same songs were later included in the lineup of fictional radio station Flashback 95.6 in the Grand Theft Auto III video game. They were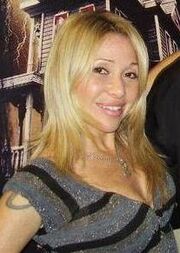 also included in the Scarface: The World Is Yours video game, based on the 1983 film. Her hit "Love in the Shadows" was featured in the films Thief of Hearts and Circuit.
Also in 1985, she provided back-up vocals for Human League front-man Philip Oakey's debut solo album, Philip Oakey & Giorgio Moroder.[2] In 1987 she released the song "Mind Over Matter," which is featured in the movie Summer School. Daily plays guitar, harmonica, keyboards, and percussion. In her 1988 song, "Some People," she plays guitar and harmonica. She performed a song on The Breakfast Club soundtrack called "Waiting."
Daily released a single titled "Beautiful," that she made available through iTunes, on April 29, 2008. She also sang the song "Dawn's Theme," which was used at the end of the movie Streets.
Personal life
Edit
Daily dated actor Jon-Erik Hexum of the television show Cover Up, and was dating him at the time of his death. Daily was married to Rick Salomon from 1995–2000. They have two daughters, Hunter (b. 1996) and Tyson (b. 1998).
Ad blocker interference detected!
Wikia is a free-to-use site that makes money from advertising. We have a modified experience for viewers using ad blockers

Wikia is not accessible if you've made further modifications. Remove the custom ad blocker rule(s) and the page will load as expected.