Everybody's a Critic is a Winnie Woodpecker segment from this episode of The New Woody Woodpecker Show starring Ms. Meany, Wally Walrus & Winnie Woodpecker
Plot
Ms. Meany is a restaurant critic except the episode Skating By.
Ms. Meany opens the restaurant and then Winnie is a criticized Wally Walrus and then Winnie talks from this phone and then Ms. Meany is finished by Wally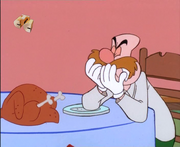 Walrus and then Wally Walrus is allergic to salt and then Winnie says "Oh no, is ruined" and then Winnie talks this phone again and then Wally it ruined and then Ms. Meany is a restaurant critic and then talks the phone over again and then Winnie laughs at the end.
Ad blocker interference detected!
Wikia is a free-to-use site that makes money from advertising. We have a modified experience for viewers using ad blockers

Wikia is not accessible if you've made further modifications. Remove the custom ad blocker rule(s) and the page will load as expected.