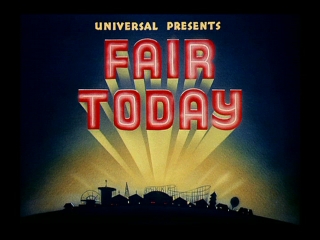 Fair Today is a 1941 animated short.
Fairs, rides, attractions and horses at the county fair are all made fun of. Like a world's fair, there are some ultra-modern exhibits. You'll see the Rubber Man, the Fat Lady, the Tattoo Man, the Sword Swallower, elephants, lions and a giraffe... but the real problem is a little old lady looking for her dog. A "Cream Separator" is operated by a small child with a bowl. A "Crazy Quilt" lives up to its name. Announcer: "Say, this turkey has no neck!" Turkey: "Aw, nobody eats the neck, anyway!" There's a hog-calling contest ("You're a hog!").
Ad blocker interference detected!
Wikia is a free-to-use site that makes money from advertising. We have a modified experience for viewers using ad blockers

Wikia is not accessible if you've made further modifications. Remove the custom ad blocker rule(s) and the page will load as expected.