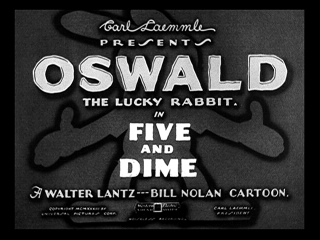 Five and Dime is a cartoon short by Walter Lantz which features Oswald the Lucky Rabbit. It is the 74th Oswald short produced by Lantz and the 125th overall. It also is among the number of shorts that feature Oswald in his fully clothed appearance.
Plot summary
Edit
Oswald was dancing on an urban street. It suddenly started to rain and Oswald ran into what was called a "five and ten cent store." Because his shorts were pretty saturated, Oswald grabbed a wringer and went some place within the store to dry it. The place he went to dry his shorts turns out to be the shop's display window where the outside crowd saw him and laughed.
While looking at what the store retails, Oswald befriends a girl dog who happens to be the store clerk. The clerk asked Oswald if he could play the piano. Agreeing to her wishes, Oswald played the piano and sang the song I Found a Million Dollar Baby (in a Five and Ten Cent Store). A lot of the store's patrons started taking note on his performance.
While everyone was watching Oswald's exhibition, a puppy parts from his mother and decides to explore the store. After a few moments of wondering, the puppy saw a Jimmy Durante jack-in-the-box. He also saw a stout man and a thin man. Obliged to play a prank on the two men, the puppy threw a fish at the stout man's head. Thinking that the other person did it, the stout man delivered a haymaker onto the thin man. The thin man was sent airborne, knocking all the dishes off the shelf. To avoid trouble, the puppy knocked a statue off its platform, and replaces it with himself
The store's manager stepped out of his office and was infuriated by the mess. Believing Oswald was responsible, the manager expelled the young rabbit from the store and fired the girl dog. Oswald and the girl dog went on to buy wedding garments, got married, and found themselves a home.
External links
Edit
---
This article is a Stub. You can help Walter Lantz Wiki by expanding it.
---
Ad blocker interference detected!
Wikia is a free-to-use site that makes money from advertising. We have a modified experience for viewers using ad blockers

Wikia is not accessible if you've made further modifications. Remove the custom ad blocker rule(s) and the page will load as expected.