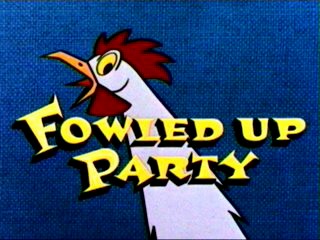 Fowled Up Party is a 1957 short starring Maggie & Sam. This is the last cartoon in the Maggie and Sam series.
Sam and Maggie are on their merry way to a costume party, and Sam is wearing a Rooster costume. They run out of gas on the way and Sam hikes off looking for a gas station. He gets no further than the nearest farm house and encounters a huge dog who likes nothing better then chicken as the dinner item of his choice, and he is really thrilled over the prospect of just how many dinners the biggest rooster he has ever seen will provide.
Ad blocker interference detected!
Wikia is a free-to-use site that makes money from advertising. We have a modified experience for viewers using ad blockers

Wikia is not accessible if you've made further modifications. Remove the custom ad blocker rule(s) and the page will load as expected.