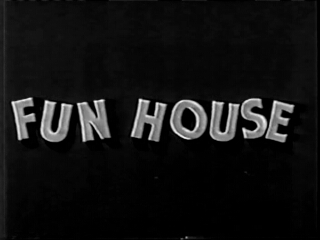 Fun House
is a 1936
Oswald the Lucky Rabbit
cartoon.
Oswald visits a closed (and scary) amusement park funhouse. His dog tries to enter an amusement park, only to get thrown out by a guard who is a pig!
Oswald the Rabbit and his (rabbit) girlfriend go to an amusement park but Oswald's dog is refused admittance. This does not set well with the pooch so he sneaks in through a trap-door that comes up into the shooting gallery, The park police are soon chasing Ozzie's dog through the skating rink.
Ad blocker interference detected!
Wikia is a free-to-use site that makes money from advertising. We have a modified experience for viewers using ad blockers

Wikia is not accessible if you've made further modifications. Remove the custom ad blocker rule(s) and the page will load as expected.