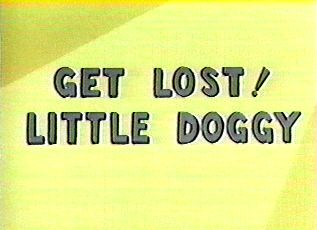 Get Lost! Little Doggy is the 136th animated cartoon short subject in the Woody Woodpecker series. Released theatrically on September in 1963, the film was produced by Walter Lantz Productions and distributed by Universal Studios.
At the pet shop, Duffy Dog wants to be buyed by someone when a man saw it. The dog shows the man cards saying: "For Sale", "Cheap!", "Mans Best Friend" and "Please Take me Home". The dog was annoyng and it baited the man. While this, Woody was walked on the street and he saw the dog. The dog shows him cards saying: "Take Me Home", "I can do tricks" and "Watch Closely". The dog demonstraieded him tricks for example: to cut his self in two and magical, to make woodpecker seeds. Woody was imbressioned and he wanted to take the dog home and when the dog saw a card saying No Dogs Allowed he was annoyed and was roared. Woody puted him in a case but Miss Meany saw it and take it by the tale. Annoyed, Duffy baited Meany on the head and she sended them out. Nervous, Duffy roared again. Woody taked Duffy up and Miss Meany sees it and Woody maked her falling. Then, Woody hided it a roaw but his tail was saw it. Woody hided him in the sidderchest then in the kettle while Meany opened the door with the keys. In the kettle, Duffy's tail was saw again and Meany saw it. Duffy roared again and he bited Meany on the leg. Meany sended Woody and Duffy out again. Then, Woody dressed up Duffy as a bride taking him in the room. Happily, they were eating and Woody closed the film laughing.
Ad blocker interference detected!
Wikia is a free-to-use site that makes money from advertising. We have a modified experience for viewers using ad blockers

Wikia is not accessible if you've made further modifications. Remove the custom ad blocker rule(s) and the page will load as expected.