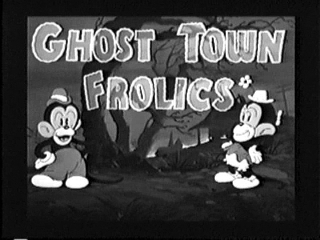 Ghost Town Frolics
is a 1938
New Universal Cartoons
cartoon.
The ghosts in an abandoned hotel are not happy. They idle away their time getting drunk, playing pinball and slot machines, and collecting their relief checks. What they want is someone to scare. They finally get their opportunity when two chimpanzees and a big, sad-faced dog step inside.
In an abandoned hotel, idle ghosts get drunk, play slot machines and line up for their relief checks. Two chimpanzees and their big, mopey dog venture inside. The ghosts are thrilled at this new opportunity for mischief. A ghostly hand comes out of the wall and snatches Jill, the girl chimp. Jock, the boy chimp, and the dog separate to go look for her. The dog finds a ghostly fire hydrant that changes to a cat. Jock finds a ghost who taunts him with a cowbell and a trumpet. The dog will suffer electric shock from a light fixture and Jock will dodge gunfire from a battleship before they find Jill and make their escape.
Ad blocker interference detected!
Wikia is a free-to-use site that makes money from advertising. We have a modified experience for viewers using ad blockers

Wikia is not accessible if you've made further modifications. Remove the custom ad blocker rule(s) and the page will load as expected.