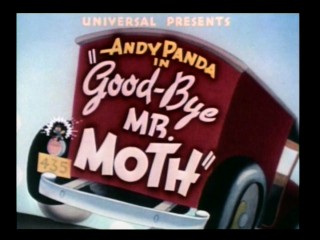 Good-Bye Mr. Moth is a 1942 starring Andy Panda.
Andy Panda is very happy running his tailor shop until a huge, hungry moth flies through the keyhole, and starts making a buffet dinner out of all the clothes in Andy's shop. Andy's attempts to get him out are unsuccessful, until the moth has had his fill---all of Andy's stock---and departs the premises.
Andy Panda's first solo short.
This cartoon's title is a play on the 1939 MGM feature Goodbye, Mr. Chips starring Robert Donat and Greer Garson.
Hidden Gag: One of the tags Andy reads is signed "Bernie Kreisler". Kreisler was the head of the Universal short subjects sales department at the time. Lantz had quickly inserted the name as a joke. When Kreisler found out he demanded Lantz to take his name off. Lantz replied, "Well, Bernie, I'm sorry I can't take it off. Universal made three hundred fifty prints of it, we can't just make all new prints." The name stayed, but Kreisler was not happy about it at all.
Ad blocker interference detected!
Wikia is a free-to-use site that makes money from advertising. We have a modified experience for viewers using ad blockers

Wikia is not accessible if you've made further modifications. Remove the custom ad blocker rule(s) and the page will load as expected.