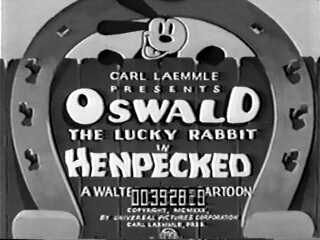 Henpecked
is an animated short produced by Walter Lantz and features Oswald the Lucky Rabbit.
Plot summary
Edit
Oswald was playing piano in his apartment room, singing a swing song (possibly an original song from the series rather than something popularized eariler). Meanwhile, a big bear from another room was disturbed by the sound and confronts Oswald. The bear demanded to have silence throughout the entire apartment, and Oswald reluctantly agreed. Not buying the rabbit's word, the bear picks up the piano and tosses it out the window.
Hours later, Oswald received a phone call. Speaking to him was a stray kitten whom he met before. The kitten was looking to come visit Oswald as well as bringing in a pack of other stray kittens. Oswald rejected the offer because of the deal he made with the big bear. Nevertheless, the stray kittens marched towards the apartment.
To Oswald's dismay, the stray kittens came inside and began rough-housing. They jumped on beds and even catapult their friend around with a blanket. One of the kittens play a prank on the big bear by putting a clothes iron in that guy's trousers. Oswald tries to intervene but to no avail. The big bear twitches in pain and frantically runs around before sitting in a bucket of water.
Moments later, the stray kittens were putting up an orchestra. The jolt of their aggressive play was even felt by the big bear who was bathing upstairs. As the floor of his bathroom crumbled and he plummeted to the next floor below, the big bear knew this was the last straw. Learning that they're in hot water, Oswald and the stray kittens locked themselves in an appartment room. Immediately, the big bear came up with idea of sucking them under the door using a vacuum cleaner which worked out. The bear removes the vacuum bag and dumps it outside where it opened automatically somehow. Although they were excluded, the stray kittens had a good time and Oswald couldn't believe it.
| Actor | Character |
| --- | --- |
| Pinto Colvig | Oswald the Lucky Rabbit |
| Walter Lantz | the stray kittens |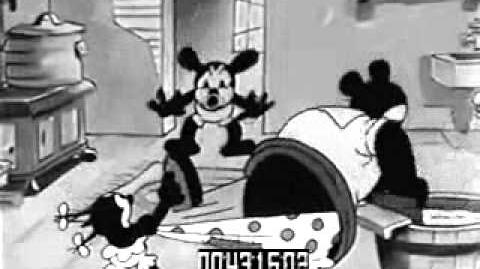 ---
This article is a Stub. You can help Walter Lantz Wiki by expanding it.
---
Ad blocker interference detected!
Wikia is a free-to-use site that makes money from advertising. We have a modified experience for viewers using ad blockers

Wikia is not accessible if you've made further modifications. Remove the custom ad blocker rule(s) and the page will load as expected.