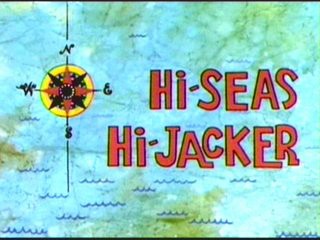 Hi-Seas Hi-Jacker is a 1963 short starring Inspector Willoughby.
In the old days, sailing the seven seas was dangerous as pirates were at large. But, as the narrator tells us, "That was all in the past!" Not so. A modern-day pirate, "One-Eyed" Jack Hook, is caught holding up a battleship. Everyone flees the ship but Inspector Willoughby is assigned to bring justice to the lawbreaker. The pirate sinks Willoughby's rowboat and then his submarine but the Inspector gains access to the ship inside a torpedo. After showing Hook some "judo moves", Hook puts him back in the torpedo and fires him from the cannon but ends up getting shot from it himself. After trying to drown the Inspector by tying him in a sack and throwing him overboard (once again, Willoughby out-foxes Hook), the pirate pulls up the sack and finds a mine inside which blasts Hook into the emergency boat. Willoughby then demands, at gunpoint, that Hook use the lifeboat to tow the battleship back to land and "return the loot to its' rightful owner!"
Ad blocker interference detected!
Wikia is a free-to-use site that makes money from advertising. We have a modified experience for viewers using ad blockers

Wikia is not accessible if you've made further modifications. Remove the custom ad blocker rule(s) and the page will load as expected.