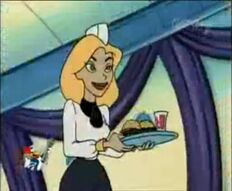 Hinga
[[|250px]]
Hinga as seen in Franken Woody

First appearance

FrankenWoody (2000)

Last appearance

Infrequent Flyer (2002)

Created by

Diane A. Crea

Portrayed by

Jennifer Hale
Hinga is a one shot character in
The New Woody Woodpecker Show
. She originally appeared in the episode "FrankenWoody and then returned in "Infrequent Flyer." She started out as a brown anthropomorphic fox creature, but was completely redisgened as a human character.
Ad blocker interference detected!
Wikia is a free-to-use site that makes money from advertising. We have a modified experience for viewers using ad blockers

Wikia is not accessible if you've made further modifications. Remove the custom ad blocker rule(s) and the page will load as expected.