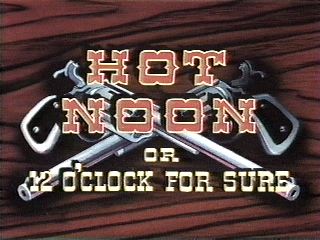 Hot Noon (or 12 O'Clock For Sure) is the 51st animated cartoon short subject in the Woody Woodpecker series. Released theatrically on October 12, 1953, the film was produced by Walter Lantz Productions and distributed by Universal International.
Woody Woodpecker is a piano player at the Old Crow Bar and there is a beautiful Mexican woman wearing a red dress and a big sombrero sitting on his piano. She was madly in love with Woody Woodpecker and the feeling was mutual. Word of Buzz Buzzard coming to town looking to kill the sheriff spreads and every sheriff at the Bar gives Woody their badges. The woman still sitting on the piano then takes Woody in her arms and says, "Es mi hombre magnifico. You are my little sheriff. You will get the bad hombre, no?" Then she gives him a big kiss, convincing him to stop Buzz. And once he does catch Buzz she says "Tan valeinte! You catch the bad man!" Next she leaps into his arms and congratulates him with another long smooch.
Hot Noon (or 12 O'Clock For Sure) was the first entry in the Woody Woodpecker series directed by veteran animator/director Paul J. Smith, who had worked at the studio as animator for several years. Smith had directed a handful of Lantz "cartunes" by the time this film was released. This also the only appearance of Buzz Buzzard's brothers, Booze and Bizz Buzzard.
References
Edit
Cooke, Jon, Komorowski, Thad, Shakarian, Pietro, and Tatay, Jack. "1953". The Walter Lantz Cartune Encyclopedia
Ad blocker interference detected!
Wikia is a free-to-use site that makes money from advertising. We have a modified experience for viewers using ad blockers

Wikia is not accessible if you've made further modifications. Remove the custom ad blocker rule(s) and the page will load as expected.