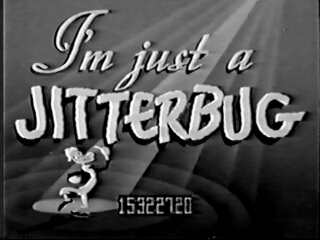 I'm Just a Jitterbug
is a 1939
Cartune
cartoon.
At a cartoon studio, a drawing of a jitterbug comes to life and encourages the other drawings to dance and sing. Meanwhile, the cuckoo bird in the cuckoo clock is desperate for sleep.
A Jitterbug show is staged in a country schoolroom at night, the leader being a drawing that comes to life, and assembles all the woodland wildlife musicians. Jack and Jill and other fairy-tale characters come to life and join the proceedings as dancers. The cuckoo in the clock is trying to get some sleep and finally emerges with a shotgun and quietens the noisemakers.
Ad blocker interference detected!
Wikia is a free-to-use site that makes money from advertising. We have a modified experience for viewers using ad blockers

Wikia is not accessible if you've made further modifications. Remove the custom ad blocker rule(s) and the page will load as expected.