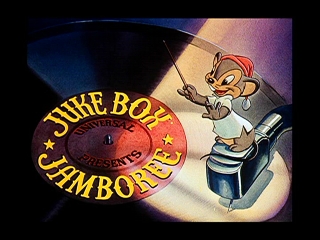 Juke Box Jamboree is a 1942 animeted short as part of Swing Simphony series.
A mouse, sleeping in the Zowie Cafe, has his sleep disturbed by the jukebox. He crawls into the machine, but the mechanism flings him out the coin return. The mouse lands in a glass of Zowie beverage, which he happily drinks. Bottles tip over, releasing the spirits (both alcoholic and ghostly) within. The ghosts form a band, at first just playing rhythm (with peanuts as maracas). Turtles in the cafe's fountain start dancing. A lobster on a plate does a 'Carmen Miranda' impression. The figures on a lamp dance around the shade. A cactus dances with the mouse. The mouse hits the floor, knocking several mouse ghosts loose; they form a conga line, leading to the mouse's bed, where he falls back to sleep.
Ad blocker interference detected!
Wikia is a free-to-use site that makes money from advertising. We have a modified experience for viewers using ad blockers

Wikia is not accessible if you've made further modifications. Remove the custom ad blocker rule(s) and the page will load as expected.