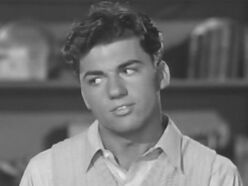 Kent Rogers (1924 – 9 July 1944) was a Hollywood impressionist who appeared in several live-action shorts and features and a voice actor for Warner Bros..
Rogers amassed an impressive resume of roles during his short career. He portrayed several Hollywood stars in Hollywood Steps Out. He also lent his voice to The Heckling Hare, Porky's Pastry Pirates, Horton Hatches the Egg, The Squawkin' Hawk and Super Rabbit.
Rogers also provided the original voice of Beaky Buzzard in Bugs Bunny Gets the Boid and The Bashful Buzzard. He also provided the voice of Junior Bear in Bugs Bunny and the Three Bears, the initial 1944 entry of Chuck Jones' The Three Bears series.
Rogers died in the crash of a training flight at Pensacola, Florida, while he was in the military during World War II.
Stan Freberg and Mel Blanc replaced Rogers as the voice of Beaky Buzzard, though the character's appearances were limited after Rogers' death.