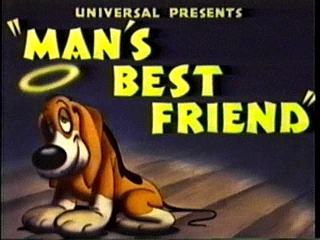 Man's Best Friend
is a 1941
Cartune
short.
Overworked, overtired hunting dog Snoozer has a hard time trying to get plenty of sleep to go hunting with his master the following day. Due to noise, lights, etc., he's up all night. The put-upon dog must put up with an assortment of classic cartoon annoyances from chirping crickets to loudly clicking clocks to a house fire. A classic end gag has the dog turning the tables on the hunter.
Ad blocker interference detected!
Wikia is a free-to-use site that makes money from advertising. We have a modified experience for viewers using ad blockers

Wikia is not accessible if you've made further modifications. Remove the custom ad blocker rule(s) and the page will load as expected.