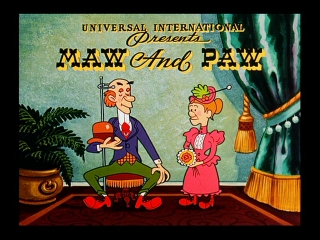 Maw and Paw is a 1953 short starring Maw & Paw. This is Maw & Paw's first appearance.
This cartoon is based on Universal's Maw and Paw Kettle features. Maw and Paw and their kids live on a farm and can be described as a rural family with below average intelligence (their pet pig, Milford, is regarded in the opening titles as the "Smart One"). At dinner, Milford answers a phone-in quiz contest correctly and wins a new car for the family. The problem is no one in the family knows how to drive it (Maw thinks the antenna is a "new fangled clothesline"). Eventually, Milford goes for a joyride around the farm chasing most of the residents before finally crashing into a tree reducing it to the size of a Model-T. It is now the right size for the family!
Ad blocker interference detected!
Wikia is a free-to-use site that makes money from advertising. We have a modified experience for viewers using ad blockers

Wikia is not accessible if you've made further modifications. Remove the custom ad blocker rule(s) and the page will load as expected.