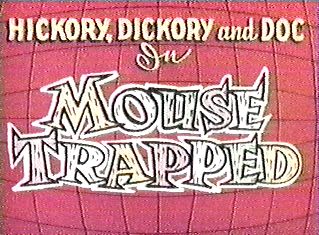 Mouse Traooed
is a 1959
Hickory, Dickory, and Doc
cartoon.
Hickory and Dickory are watching television, when suddenly the program is interrupted by a special police bulletin. Since it is Friday the 13th, the mayor and the police commissioner have proclaimed all black cats a menace to the city's safety, and have therefore ordered the capture of all such cats. When police cars from every direction converge on Doc, a black cat, Hickory and Dickory endeavor to save him, but every effort on their part somehow backfires. Finally, Doc finds a can of whitewash and paints himself white. Just when he thinks that he's safe, Hickory and Dickory turn a hose on him, and the police hunt begins again. The story ends with Doc being sent up in a makeshift space capsule to orbit the Earth.
Ad blocker interference detected!
Wikia is a free-to-use site that makes money from advertising. We have a modified experience for viewers using ad blockers

Wikia is not accessible if you've made further modifications. Remove the custom ad blocker rule(s) and the page will load as expected.