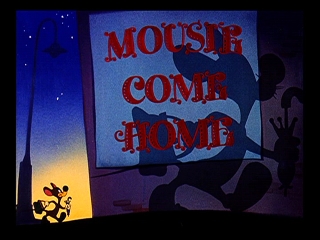 Mouise Come Home
is a 1946 short starring
Andy Panda
and
Milo
, in his second and final appearance.
Andy and his dog, Milo, share their house with an obnoxious rodent who enjoys tormenting the two above anything else. Finally, the two decide the only way they can rid themselves of the pest is for the two to just plain move out. They pack their bags and move to a new house leaving the mouse behind. With no one to torment, the mouse decides life isn't worth living anymore and attempts to end it all until he finally discovers their new address, moves in with them, and resumes tormenting the two.
Ad blocker interference detected!
Wikia is a free-to-use site that makes money from advertising. We have a modified experience for viewers using ad blockers

Wikia is not accessible if you've made further modifications. Remove the custom ad blocker rule(s) and the page will load as expected.