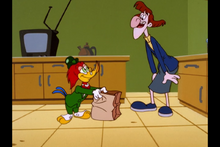 Nickey Woodpecker is a woodpecker in the New Woody Woodpecker Show,
He is a woodpecker thief, who pretends to be educated to make others foolish, this woodpecker only appears in an episode "Eenie, Meany Out You Go", He's seen in a green suit wearing a red bowtie and a green hat through out the episode Woody made several attempts to get rid of him eventually he succeeds and Nickey is ended up drove out of Woody's house, it is unknown what happened right after the event either he went off the grid or skipped town.
Ad blocker interference detected!
Wikia is a free-to-use site that makes money from advertising. We have a modified experience for viewers using ad blockers

Wikia is not accessible if you've made further modifications. Remove the custom ad blocker rule(s) and the page will load as expected.