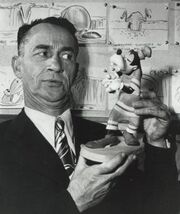 Vance DeBar "Pinto" Colvig
(September 11, 1892 – October 3, 1967) was a
American
vaudeville
actor
,
radio
actor,
newspaper
cartoonist
, prolific movie
voice actor
, and
circus
performer
whose
schtick
was playing
clarinet
off-key while
mugging
.
Personal life
Edit
Colvig was born Vance DeBar Colvig in Jacksonville, Oregon, the son of William M. and Adelaide Birdseye Colvig. He graduated from Oregon State University in 1911 at age 18. A lifelong smoker, Colvig was one of the pioneers in advocating warning labels about cancer risk on cigarette packages in the United States. He was also the father of the late actor Vance Colvig who died on March 3, 1991.
Colvig is probably best known as the voice of Disney's Goofy[1] and the original Bozo the Clown, a part he played for a full decade beginning in 1946.[2] He is also the second known voice of Oswald the Lucky Rabbit.[3] Other notable characters he voiced include Practical Pig, the pig who built the "house of bricks" in the Disney short Three Little Pigs, as well as both Sleepy and Grumpy in Snow White and the Seven Dwarfs, and the barks for Pluto the dog. Colvig worked for not only the Disney studio, but also the Warner Bros. animation studio, Fleischer Studios (Bluto, Gabby), and MGM, where he voiced a Munchkin in The Wizard of Oz. He helped in the Looney Tunes 1942 cartoon, Conrad the Sailor.
Colvig died of lung cancer on October 3, 1967, in Woodland Hills, Los Angeles, California, at age 75.[4] He was interred at Holy Cross Cemetery in Culver City.
Ad blocker interference detected!
Wikia is a free-to-use site that makes money from advertising. We have a modified experience for viewers using ad blockers

Wikia is not accessible if you've made further modifications. Remove the custom ad blocker rule(s) and the page will load as expected.