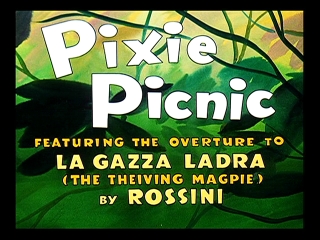 Pixie Picnic is a 1948 short.
An orchestra of gnomes (some of whom look like they might know Snow White). As they are playing flowers and other organic instruments in the forest, there are various mishaps, all timed to music. A chef inflates a trussed turkey, which explodes, showering the pixies with various foodstuffs; a bottle of ketchup squirts out one gnome's ears as he plays. One pixie falls in the cider well and emerges drunk; he goes to play ten pins, and after various mishaps including shooting the ball from a cannon (along with himself), hits a pumpkin truck. The cargo rolls through the field, carrying the entire orchestra away.
Ad blocker interference detected!
Wikia is a free-to-use site that makes money from advertising. We have a modified experience for viewers using ad blockers

Wikia is not accessible if you've made further modifications. Remove the custom ad blocker rule(s) and the page will load as expected.