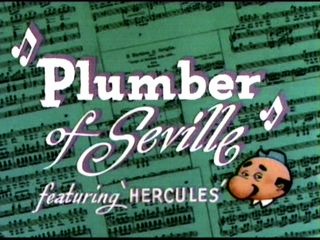 Plumber of Seville is a 1957 short.
Hercules, a small, bulbous-nosed plumber, receives a note saying he must "fix leak at Carnegie Hall". He arrives but, unfortunately, on the same night, various musical pieces are being conducted and, while Hercules noisily repairs the leaky pipe, manages to disrupt the concert in no uncertain terms. To make matters worse, he has wine with lunch, gets drunk, and falls in love with the female harp player. Finally, he fixes the pipe and presents the conductor with his enormous bill. The conductor throws him out where the harp player catches him and drives off to the park so they can continue "pitching woo".
This cartoon doesn't have speaking dialouge.
This is the first of only two appearances of Hercules. The second will be The Goofy Gardener.
Ad blocker interference detected!
Wikia is a free-to-use site that makes money from advertising. We have a modified experience for viewers using ad blockers

Wikia is not accessible if you've made further modifications. Remove the custom ad blocker rule(s) and the page will load as expected.