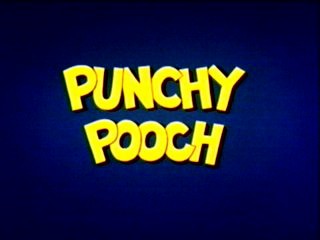 Punchy Pooch is a short released on September 4th, 1962 starring Doc.
At a carnival, Doc enters Champ in a boxing match against "The Australian Bounder", a fighting kangaroo. The winner receives $500 if he can remain in the ring for four rounds. Doc and Champ soon learn that the kangaroo and his manager don't fight fair. To assist Champ in winning, Doc comes up with a variety of schemes. He tries to convince the kangaroo that Champ is a mother with child, then that Champ has the measles and, in the final round, he puts Champ on a unicycle so that he can outrun his opponent.
A.K.A. "Punch Pooch" or "Pouchy Pooch".
Ad blocker interference detected!
Wikia is a free-to-use site that makes money from advertising. We have a modified experience for viewers using ad blockers

Wikia is not accessible if you've made further modifications. Remove the custom ad blocker rule(s) and the page will load as expected.