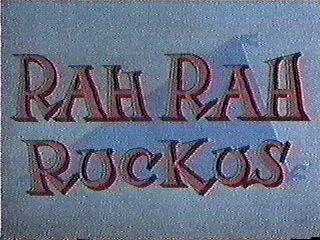 Rah-Rah Ruckus is a short released on 1964 starring The Beary Family.
An exhausted Charlie returns from work hoping to get some rest. However, Bessie informs him that their children, Junior and Suzy, have become school cheerleaders who (rather noisily) practice their routines at home. Charlie is displeased by this (he loses more than one newspaper to their antics) and tries to stop practice but fails constantly. Examples: he throws Suzy's baton out the window but it boomerangs back and hits him in the face; he steals Junior's megaphone and is criticized by Bessie who now believes him to be the source of the noise.
Ad blocker interference detected!
Wikia is a free-to-use site that makes money from advertising. We have a modified experience for viewers using ad blockers

Wikia is not accessible if you've made further modifications. Remove the custom ad blocker rule(s) and the page will load as expected.