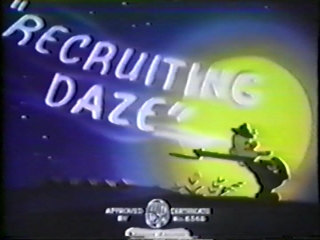 Recruiting Daze is a 1940 animated short starring Punchy.
Military humor featuring military equipment, Punchy, and an assortment of other characters. It's a whole army in a daze throughout this wacky nonsense in a soldier camp where the awkward squad makes everything awkward until powder magazines blow up, sausage balloons are sliced for lunch, and a Big Brass council of war argues over tic-tac-toe! This army would make an enemy laugh himself helpless!
Working title: Be Prepared
First onscreen credits for Ben Hardaway and Lowell Elliot at Lantz
Leonard Maltin claims that the director of this cartoon is actually Alex Lovy
Ad blocker interference detected!
Wikia is a free-to-use site that makes money from advertising. We have a modified experience for viewers using ad blockers

Wikia is not accessible if you've made further modifications. Remove the custom ad blocker rule(s) and the page will load as expected.