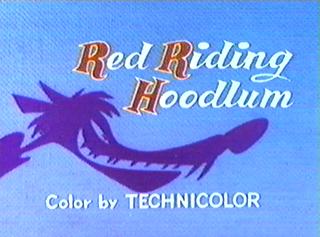 Red Riding Hoodlum
is the 74th
animated cartoon
short subject
in the
Woody Woodpecker
series. Released theatrically on February 11, 1957, the film was produced by
Walter Lantz Productions
and distributed by
Universal International
.
Woody Woodpecker sends Knothead and Splinter on an errand to deliver a basket of goodies to their Grandmother's house. They encounter a Wolf and soon realize that the events are occurring just like the Little Red Riding Hood story they were reading at the start of the film. However, things start to differ once Granny gets a good look at the Wolf. She falls head over heels in love with him and goes to redo her make-up. She puts on a red curly wig, curls her eyelashes, puts on a red shade of lipstick and powders her face. She embraces the Wolf and plants a giant kiss on his lips while red hearts appear in the air. She winds up marrying the Wolf even though he doesn't seem too thrilled about it.
Though this short is a part of the Woody Woodpecker series, its main stars are Woody's nephew and niece Knothead and Splinter, making their second appearance since the previous year's Get Lost.
The ending is similar to another Woody Woodpecker cartoon, A Fine Feathered Frenzy. In that cartoon the elderly yet rich and well manicured widow Gorgeous Gal falls in love with Woody the second she lays eyes on him. Gorgeous Gal makes not one costume change but several while constantly winking and flirting with her "Baby!" She wastes no time trying to put her arms around the Woodpecker so they can smooch. Much like Granny she too manages to marry the object of her heart's desire against his wishes. The film ends with her becoming Mrs. Gorgeous Gal Woodpecker.
Ad blocker interference detected!
Wikia is a free-to-use site that makes money from advertising. We have a modified experience for viewers using ad blockers

Wikia is not accessible if you've made further modifications. Remove the custom ad blocker rule(s) and the page will load as expected.