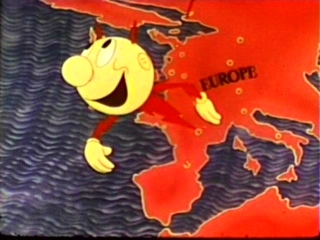 Reddy Made Magic
is a Misc Short featuring a little red creature named Reddy Kilowatt.
This Lantz-produced educational film features Reddy Kilowatt, a character created in 1926 by Ashton B. Collins, Sr., the general commercial manager of the Alabama Power Company. The character was licensed by some three hundred electrical companies in the United States and overseas that sought to sell homeowners on electricity use. In addition, the character was featured in a give-away comic book, also produced by the Lantz studio in 1947.
Significant portions of footage from this Lantz production were later reused in a second Reddy Kilowatt film entitled The Mighty Atom, produced in 1958 by John Sutherland Productions. The song sequence was also reused for Reddy Kilowatt commercials that appeared on television throughout the 1950s.
Ad blocker interference detected!
Wikia is a free-to-use site that makes money from advertising. We have a modified experience for viewers using ad blockers

Wikia is not accessible if you've made further modifications. Remove the custom ad blocker rule(s) and the page will load as expected.