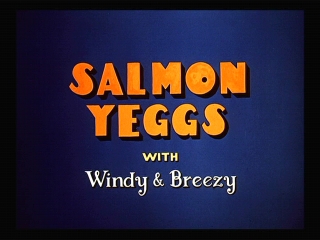 Salmon Yeggs
is a 1958 short starring
Windy & Breezy
. It is notable by being the first appearance of
Inspector Willoughby
.
Instead of fishing for salmon in the stream Windy the bear tries to show his son Breezy a shortcut method...by looting a cannery. The guard makes this a difficult task.
Ad blocker interference detected!
Wikia is a free-to-use site that makes money from advertising. We have a modified experience for viewers using ad blockers

Wikia is not accessible if you've made further modifications. Remove the custom ad blocker rule(s) and the page will load as expected.